Alec Young, Class of 2010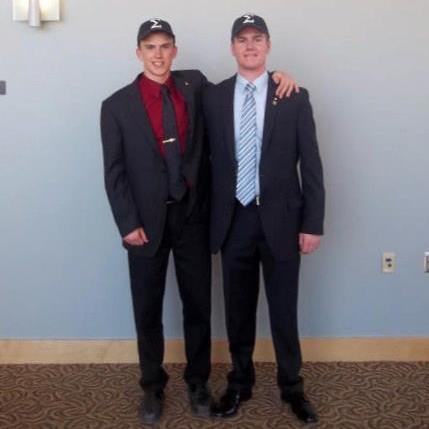 Alec Young (pictured on left) with fellow Georges Valley classmate from 2010, Nick Smith, after induction into the Senior Skull Honor Society.
After graduating from Georges Valley High School in 2010, Alec attending the University of Maine at Orono, where he earned a Bachelor's of Science Degree in Civil Engineering.  While in school, Alec became a member of the Sigma Phi Epsilon fraternity and was inducted into Senior Skulls Honor Society. He also was able to travel to Greece through a Sigma Phi Epsilon scholar program to learn about the ancient Greek culture and how it relates to the fraternities principles.
Since graduating from college in 2014, Alec has moved to Boston to work for Turner Construction as a field engineer. After gaining some experience, he plans on getting his Masters Degree in business or management.
"Trekkers is had such an incredible impact on my life growing up, and continues to do so. Every day, I still remember the life lessons I learned from the trips we took over six years. Being in Trekkers allowed me to challenge myself to become a better person and think about life in a whole new way. Through Trekkers, I have made lifelong friends and have made memories that will last a lifetime. I am so thankful for everything Trekkers has given me, and look forward to giving back to them in the future."