A Leader in Youth Development
For over 25 years, Trekkers has cultivated the inherent strengths of young people through the power of long-term mentoring relationships. Our best practices and principles have become a model of exemplary programming in the field of youth development.

Programming
Youth mentoring that utilizes outdoor, experiential, and travel-based education to strengthen resiliency, raise aspirations, and connect young people to their communities.
Training
Trekkers Training Institute provides training, coaching, and professional development opportunities based on our principles and practices.
WHY IS TREKKERS IMPORTANT?
Since 1994, Trekkers has been providing long-term, mentoring relationships to hundreds of students from Midcoast Maine. Our students consistently report statistically significant positive change in indicators of resilience, reflection, empathy, trust, and optimism.
Research shows that young people in these kinds of programs are 55 percent more likely to enroll in college, 78 percent more likely to volunteer regularly, and 130 percent more likely to hold leadership positions.
JOIN TREKKERS TO INVEST IN YOUNG PEOPLE AND IN THE FUTURE OF MAINE.
We are tremendously grateful for the generosity of the many individuals, businesses, charitable organizations, foundations, and local communities who make our work possible.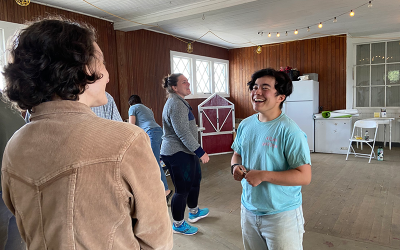 ROCKLAND — The Trekkers Training Institute (TTI) is hosting a series of Youth Engagement Workshops this summer at Trekkers in Rockland. Each three-hour session will be grounded in the principles and best practices that guide Trekkers' youth programs. All workshops...
Join our mailing list to receive the monthly e-newsletter from Trekkers.
AmeriCorps Serving Here

Through the AmeriCorps Aspiration Program, Trekkers engages two AmeriCorps members each year to act as group leaders and mentors for youth in Knox County. Working closely with Trekkers' staff, AmeriCorps members support core programming and expeditions. AmeriCorps is administered by the Corporation for National and Community Service, a federal agency that engages millions of Americans in service through its AmeriCorps and Senior Corps programs and leads the nation's volunteering and service efforts. For more information visit: www.NationalService.gov