Kristin Rickard, Class of 2011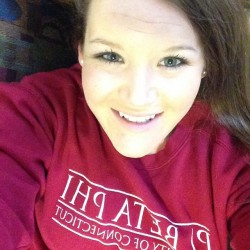 Since graduating in 2011, I have been attending the University of Connecticut in pursuit of my Bachelor's Degree in Cognitive Science. While at school, I have stayed involved with programs such as the campus concert committee, volunteering at bowling each week with special needs adults, and being a sister of Pi Beta Phi. On campus, I work at Four Arrows as a low elements ropes course facilitator and run many of their social media outlets.
In 2014,  I was in Florida participating in the Disney College Program. The DCP is an internship that allows students to get work experience with a Fortune 500 company while taking classes only available at Disney. I personally worked at three different merchandise locations in Downtown Disney, which allowed me to interact and connect with guests on a daily basis. In January 2015, I returned to UConn to complete my last two semesters of my degree.
The coolest application I have taken from Trekkers is applying it to my job as a challenge course facilitator. Remember everyone standing on a tarp and trying to flip it over, or everyone swinging over the "peanut butter pit", doing blind-folded trust walks around the school, or even trust falls? Yup, facilitating those activities is my job. Upon arriving at Four Arrows, I understood the "what" in how to complete the tasks, but now I understand the "why" behind us doing all of them before trips.
How Trekkers has impacted me is always a very hard question to answer. Trekkers impacted me in huge ways, like providing me with the opportunity to tour and fall in love with UConn my junior year of high school. Trekkers also impacted me in small ways, like instilling the sense of adventure in me which led me to the last minute decision of going all the way to Texas for the NCAA Final Four and championship games for men's basketball last semester (Go Huskies). Seeing that it is impossible to put into words all of the things Trekkers teaches us, I'm going to steal a few lines from Disney.
"If you walk the footsteps of a stranger, you'll learn things you never knew."
"It is not on the outside but what is inside that counts."
Just keep swimming and haukuna matata, everyone.