Ian Anderson, Class of 2010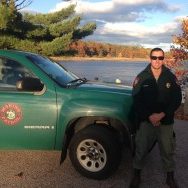 After I graduated from GVHS in 2010, I attended Maine Maritime Academy in Castine, Maine. While there, I was able to travel to Europe as part of my freshman cruise experience, and learned an incredible amount about perseverance, dedication and willpower. After two years at MMA, I decided that it was not the right career path for me, and parted ways.
After a year of working and trying to discover the right fit, I decided to submit an application to the Maine Marine Patrol. I had spent most of my working career on the water, lobster fishing, working at marinas, and on ferry boats. As such, the Department decided I would be a good fit for the Patrol.
I then attended the 18 week Basic Law Enforcement Training Program, at the Criminal Justice Academy in Vassalboro, ME. After a 3 month field training program, I am now stationed in the Scarborough area, working closely with local commercial and recreational fisheries.
Had it not been for the influence Trekkers had on my early life, there's no question in my mind that I would not be where I am today. I learned incredible social skills, the ability to understand others' backgrounds, and the knowledge that everyone comes into situations from a different place in life; all qualities that become incredibly important in the world of law enforcement. The challenges that I've put behind me, and those that I'm sure still lay ahead, are all opportunities to draw from what the Trekkers program taught me.