Trekkers Thanks the Community for Supporting 6th Annual Thomaston Trek  
On behalf of the Trekkers staff and students, I want to express my sincere gratitude to all the local businesses and individuals who helped make our 6th Annual 5K/10K Run & 5K Walk event on June 2nd such a success. The 31 participating Trekkers students raised more than $6500 in pledges toward their annual dues. The proceeds from this event will help our students participate in experiential learning programs this year—including life-changing expeditions, community service projects and adventure-based education.
We had 106 registrants, ages 10 to 74, who ran or walked to support our students. Over 68 amazing volunteers helped with set up, registration, route monitoring, finish line, timing, the pancake breakfast and clean-up duty.
With all that support, there are many people to thank, including: Mr. Hank Carey and the Thomaston Academy, Pine Tree Race Services –Tony Myatt, Knox County EMA, the Thomaston Select Board, Thomaston Police Department, Ann Craven, Dr. Katie Cunningham, Dyann Peters and all of the other wonderful volunteers, including a small army from First National Bank who worked the registration tables, who helped make the entire event run so smoothly.  Our thanks also go to Scott Yakovenko, Chef Owen Ostergard and The Slipway Restaurant for providing such a wonderful venue for the pancake breakfast.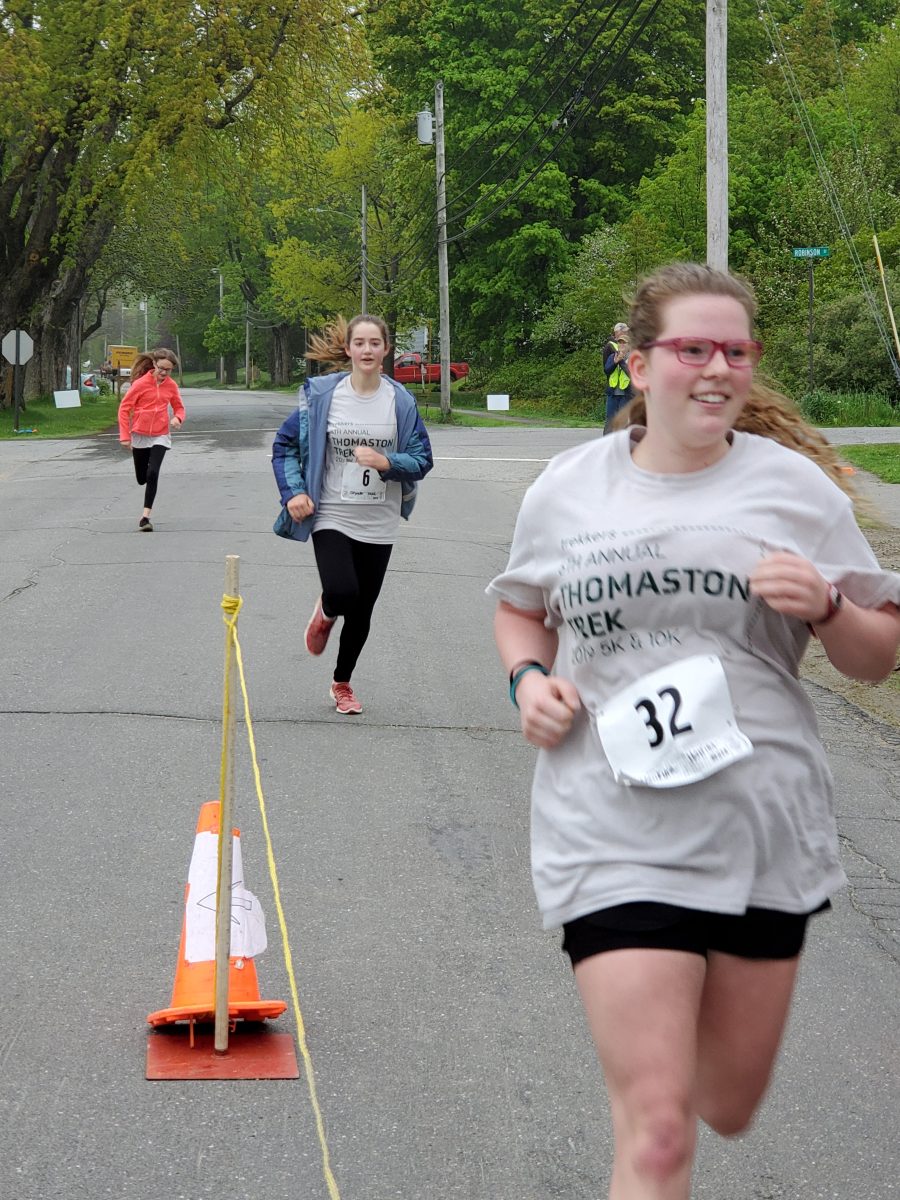 This event is made possible through the generous support of our lead sponsor: Applewood Dental.  Our supporting sponsors are as follows: Brooks Trap Mill; Clean Bee Laundry; Eastern Tire & Auto Service; Edward Jones – Mike Curtis, Rockport; Epifanes NA, Inc.; FIORE Artisan Olive Oils & Vinegars; First National Bank; First National Wealth Management; Fisher Engineering; Fuller Chevrolet; Glen Cove Dental Associates; Grasshopper Shop; Hannaford Supermarkets; Harbor Builders Associates;  Harbor Road Veterinary Hospital; Hedstrom Electric; Horch Roofing; J. Edward Knight Insurance; Jeff's Marine, Inc.; Lonza Rockland; Maine Coast Petroleum; Maritime Energy; Masters, Fowlie & Engelberg, CPAs, PA;  Monhegan Boat Line; Mount Pleasant Dental Care; National Distributors; O'Hara Corporation; Ocean Pursuits; Renys; Rockland Savings Bank, FSB.; Schooner J&E Riggin; The Slipway; and Viking, Inc.  Trekkers truly appreciates the generosity of all our sponsors and we encourage everyone to support these local businesses.
We want to sincerely thank all of the Thomaston Trek participants, along with student and parent volunteers, the Trekkers staff and board of directors.
As Trekkers celebrates its 26th year of mentoring youth from the Midcoast area, we continue to be humbled and amazed by the outpouring of support we receive from the community. It is through the community's steadfast support that we are able to achieve the Trekkers' mission of cultivating the inherent strengths of young people through the power of long-term mentoring relationships.
Thank you for your continued support and for helping to make this sixth annual Thomaston Trek so amazing.
Amie Hutchison
Executive Director