Runners and Walkers Enjoy 6th Annual Trekkers Thomaston Trek
THOMASTON —More than 106 people, young and young at heart, ran or walked on Sunday, June 2nd to celebrate Trekkers' 6th annual Thomaston Trek. This year's 5K/10K run & 5K walk began and ended at the Thomaston Academy Building. The route worked its way around the historic streets of Thomaston, and included a loop with a water station at the Thomaston Green. For the 10K course, runners repeated the 5K loop. More than 68 volunteers helped plan, staff and provide enthusiastic support for the participants. Thomaston Trek raises funds to support Trekkers long-term, relationship focused, youth mentoring programs and provides a platform for students to raise pledges toward their program dues. The field of 106 included 30 current Trekkers students.
Andrew Sermeno came in first overall for the 5K run, finishing in 20:38, clinching the prize for under 18s. Ian Cheney placed first in the 18+ category in 23:19. Elena Bertocci was the first female 5k finisher (7th overall) at 23:25. The overall winner of the 10K run was Ron Haney finishing in 48:57; Allison Leonard was second overall and first female finisher at 49:10. Veronica Kaluta took the top positon for the under 18 10K runners finishing in 1:09:22.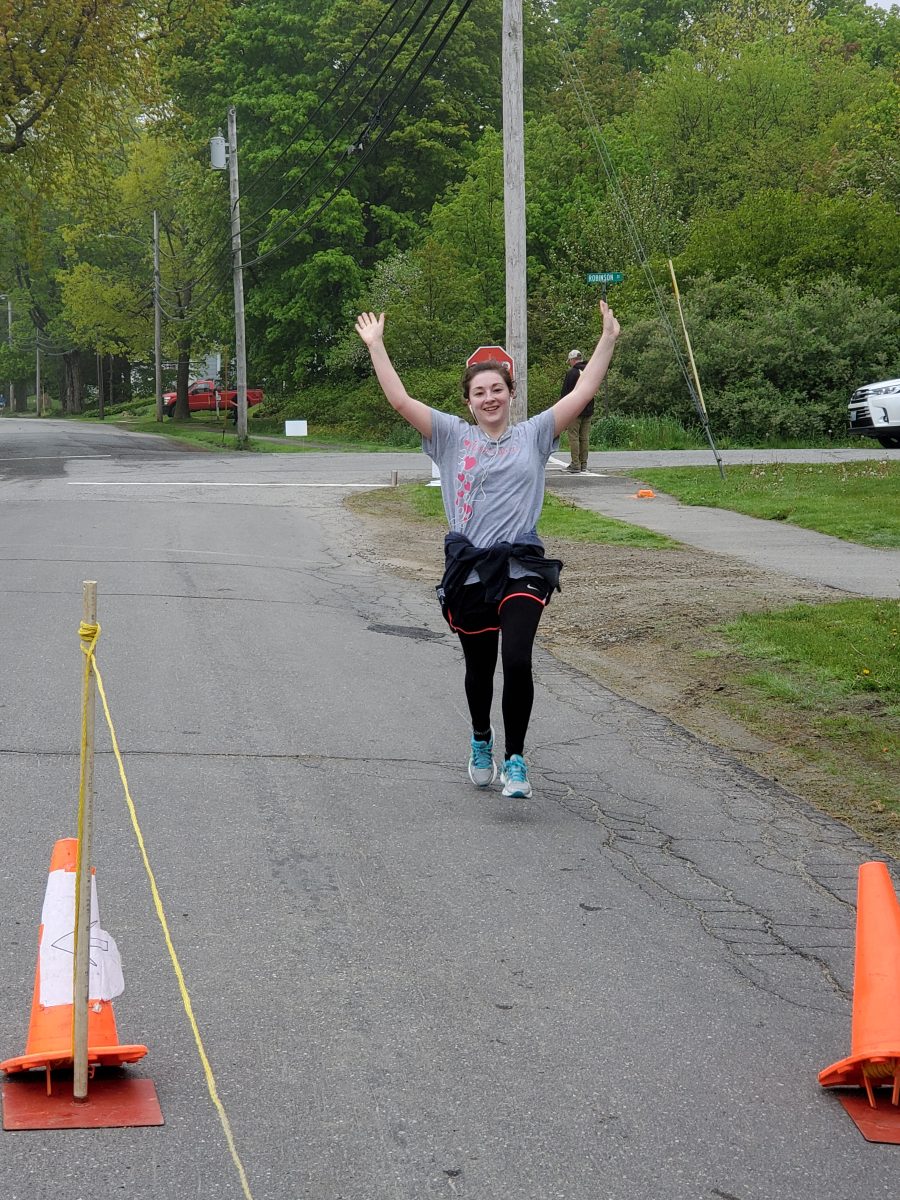 5K RUNNER PRIZES:
For the under 18 Age Bracket: overall winner was Andrew Sermeno, 20:38.
For the 18+ Age Bracket: Male: Ian Cheney, 23:19; Female: Elena Bertocci, 23:25
10K RUNNER PRIZES:
For the under 18 Age Bracket: overall winner was Veronica Kaluta, 1:09:22.
For the 18+ Age Bracket: Male: Ron Haney, 48:57; Female: Allison Leonard, 49:10.
Individual 10K Results:
RON HANEY, 48:57; ALLISON LEONARD, 49:10; KELLY MAXWELL, 52:13;     DAMON WEI, 52:22; JAMIE AMES; 56:11; MORGAN PARMENTER, 58:33; ALEC LIBBY, 58:34; AMY MINZNER,1:05:21; AMANDA KOTECKI; 1:05:22; CATHERINE BUNIN-STEVENSON,1:07:23; and VERONICA KALUTA, 1:09:22.
Individual 5K Results:
ANDREW SERMENO, 20:38; KEEGAN FITZGERALD, 21:05; CYRUS ALLEY, 22:02;
DEKLIN FITZGERALD,22:49; IAN CHENEY,23:19; GARRETT SIMMS, 23:25; ELENA BERTOCCI, 23:25; ERIN FITZGERALD, 23:43; JACK ELWELL, 24:28; BRANDON FISK,   24:54; JESSICA WEATHERBEE, 25:01; MELVIN SERMENO, 27:48; DYLAN MORONG , 27:51; VICKI SCHOONARD. 27:56 ;TUCKER ADAMS, 28:37;NOAH LUDWIG, 29:28; CORBIN FARNHAM, 29:41;SIERRA ROBERTS, 30:00;DEVIN GUPTILL, 30:15; HANNAH WALSH, 31:02;HEATHER NELSON, 31:25; JESTINE SAWYER, 31:42; HENRI WEYMOUTH, 31:57;MEGAN STILWELL, 33:32;TIFFANY NAZWORTH, 34:02; SKYLAR PRIOR, 34:47; LEE PRIOR, 35:12; BRITTANY FIELDS, 37:30; CHASE GREGORY, 37:34; JAIME GREGORY, 37:36; CHERYL FRYE, 37:52; AMIE ENGEL, 37:55; BETHANY YOVINO, 38:06; PAULA COYNE, 39:06; NICOLE HATCH, 39:15; HARRIET YANKURA, 39:17; EMMA CARPENTER, 39:21; AVA CARPENTER, 39:23; MARIANNE THOMAS, 40:34; TERA GROVER, 41:07; PATRICIA LEACH, 41:07; LEIF GENTALEN, 41:45; DONOVAN GUPTILL, 41:47; AIDAN WEYMOUTH, 41:48;
LOGAN RADLEY, 42:02; AMY PALMER, 42:26; CINDY BERTOCCI, 44:39; AMBER TAYLOR-SOARES, 46:53; COURTNEY LEACH, 46:55;LEANNA CLOUTIER, 47:19; LINDA BUTLER, 47:20; MELANIE MARTIN, 48:56; DIANE HOCH, 48:59; MICHELLE WILSON, 48:59; HAYLEY TUFTS, 49:34; REESE DRINKWATER, 49:41; EMILY SAPIENZA, 50:43; GRIFFIN SHORTALL, 50:47; CHLOE DRINKWATER, 51:04; HEATHER RAHKONEN, 51:05; CINDY RAHKONEN, 51:10; ELLEN SPRING, 51:25; DEE OBUCHON, 55:55; MARIE FINNEGAN, 56:04; MICHELLE MANK, 56:04; MICHAEL MCCUE, 56:28; GENEVA ALLEY, 58:30; KELSEY CAMPBELL, 58:33; COREY KIMBALL, 59:51; LIAM RISTEEN, 59:52; AMBER EMERSON, 59:52; JESSE RISTEEN, 59:53; BRYSON MATTOX, 1:03:50; PATTI MATTOX, 1:03:56; ASHLEY GRIFFIN, 1:04:21; SARA SCHOOLEY, 1:04:22; MORGAN GEHOUSKEY, 1:04:23; SHAYLA MCMAHON, 1:04:24; CHERYL MCMAHON, 1:04:27; EMILY TANNERBRING, 1:10:13; DEB TANNERBRING, 1:10:14; TYLER MILLAY, 1:12:51; ADAM BULLARD, 1:14:35; WENDY AUSTIN, 1:14:43; KIM SHUMWAY, 1:14:44; and MEREDITH LYNT, 1:14:45.
This event is made possible through the generous support of their lead sponsor: Applewood Dental.  Their supporting sponsors are as follows: Brooks Trap Mill; Clean Bee Laundry; Eastern Tire & Auto Service; Edward Jones – Mike Curtis, Rockport; Epifanes NA, Inc.; FIORE Artisan Olive Oils & Vinegars; First National Bank; First National Wealth Management; Fisher Engineering; Fuller Chevrolet; Glen Cove Dental Associates; Grasshopper Shop; Hannaford Supermarkets; Harbor Builders Associates;  Harbor Road Veterinary Hospital; Hedstrom Electric; Horch Roofing; J. Edward Knight Insurance; Jeff's Marine, Inc.; Lonza Rockland; Maine Coast Petroleum; Maritime Energy; Masters, Fowlie & Engelberg, CPAs, PA;  Monhegan Boat Line; Mount Pleasant Dental Care; National Distributors; O'Hara Corporation; Ocean Pursuits; Renys; Rockland Savings Bank, FSB.; Schooner J&E Riggin; The Slipway; and Viking, Inc.  Trekkers truly appreciates the generosity of all our sponsors and we encourage everyone to support these local businesses.
With all that support, there are many people to thank, including: Mr. Hank Carey and the Thomaston Academy, Pine Tree Race Services –Tony Myatt, Knox County EMA, the Thomaston Select Board, Thomaston Police Department, Ann Craven, Dr. Katie Cunningham, Dyann Peters and all of the other wonderful volunteers, including a small army from First National Bank who worked the registration tables, who helped make the entire event run so smoothly.  Our thanks also go to Scott Yakovenko, Chef Owen Ostergard and The Slipway Restaurant for providing such a wonderful venue for the pancake breakfast.
Trekkers is a Rockland-based nonprofit that works to cultivate the inherent strengths of young people through the power of long-term mentoring relationships. Trekkers utilizes outdoor, experiential, and travel-based education as a means of strengthening resiliency, raising aspirations, defining post-secondary goals, and increasing connections between young people and their communities. Founded in 1994, Trekkers now serves 240 seventh through twelfth-grade students from the Midcoast communities of Owls Head, Thomaston, South Thomaston, Rockland, Cushing and St. George. The Trekkers Training Institute was founded in 2017, and is dedicated to improving outcomes for young people by providing training, coaching and other professional development opportunities on some of the most effective, tested youth development techniques and principles.
For more information about Trekkers or the Trekkers Training Institute, contact them at 207-594-5095, or visit their websites, www.trekkers.org and www.trekkersinstitute.org.