Trekkers Recipient of $1136 from Maine Sport Outfitters' April 5-7th Non-Profit Weekend
Trekkers is excited to announce that Maine Sport Outfitters has donated $1,136 from their fourth non-profit weekend. Employees at Maine Sport Outfitters selected Trekkers to be a beneficiary of one of their four non-profit weekend fundraiser. Trekkers is a Rockland-based nonprofit that utilizes outdoor, experiential, and travel-based education as a means of strengthening resiliency, raising aspirations, defining post-secondary goals, and increasing connections between young people and their communities.
"The goal of our Non-Profit Weekends was not only to give back to the community, but to also align ourselves with like-minded organizations and help bring awareness to the work that they do. Trekkers' mission to inspire and educate young people while using the earth as an educator resonates deep within every employee here at Maine Sport Outfitters. It's gratifying to know that our donation will go towards positively impacting young people in our community while also helping them experience and appreciate the great outdoors," said Troy Curtis, General Manager of Maine Sport Outfitters.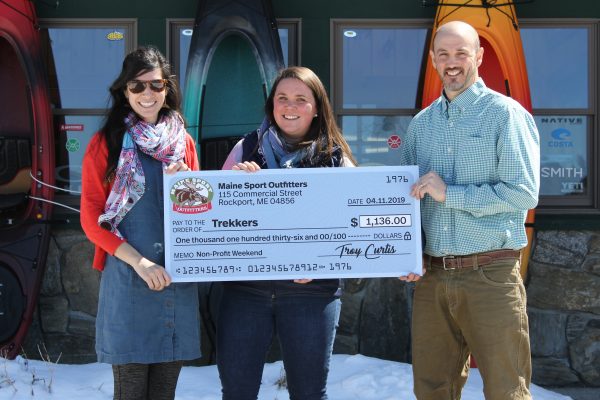 From left to right, Lindsey Veilleux , Program Manager-Trekkers; Kate Elmes, Director of Development-Trekkers; and Troy Curtis, General Manager-Maine Sport Outfitters.
For over forty years, Maine Sport Outfitters has been committed to providing both locals and tourists with top quality products, exceptional customer service and dynamic programs. As Maine Sport continues to strive to be an active member in the Midcoast Maine community, they held four non-profit weekends this year. When customers shopped at Maine Sport Outfitters, in Rockport or Camden, during a non-profit weekend, five percent of sales were donated to a predetermined local organization.
"Maine Sport Outfitters is a true community partner and we were most grateful for the opportunity to have our staff and volunteers greeting customers and sharing information on our organization, mission and the importance of long-term mentoring relationships for the young people that we serve," said Amie Hutchison, Executive Director of Trekkers.
Trekkers is a non-profit organization that cultivates the inherent strengths of young people through the power of long-term mentoring relationships.  Trekkers was founded in 1994 as an outdoor-based, youth mentoring organization that now serves 240 seventh through twelfth-grade students from the Midcoast communities of Owls Head, Thomaston, South Thomaston, Rockland, Cushing and St. George. The Trekkers Training Institute was founded in 2017, and is dedicated to improving outcomes for young people by providing training, coaching and other professional development opportunities on some of the most effective, tested youth development techniques and principles. Trekkers can be reached at 207-594-5095, www.trekkers.org and www.trekkersinstitute.org.