Rock City Employee Cooperative Donates $1367 to Trekkers in First Annual Co-op Party Fundraiser on March 9th
ROCKLAND —The Rock City Employee Cooperative in downtown Rockland is thrilled to announce that they have donated $1,367 to Trekkers from their First Annual Co-op Party on March 9th. Rock City selected Trekkers to be the beneficiary of the inaugural community fundraising event. Trekkers is a Rockland-based organization that works to cultivate the inherent strengths of young people through the power of long-term mentoring relationships.
The event drew in a full house at the café with live music from the Midcoast group BOTTOMLESS FUNK along with Max Miller as a special guest chef serving up snacks and treats all evening. A portion of the proceeds is supporting Trekkers' youth-mentoring programs. "We are very excited to partner with Trekkers and support an incredible part of the community," said Kevin Malmstrom, General Manager of Rock City Coffee Roasters & Rock City Café. "Rock City is such an important part of our community and has always been a welcoming place for our students. We're tremendously thankful for all the ways in which they fuel our work," said Amie Hutchison, Executive Director of Trekkers.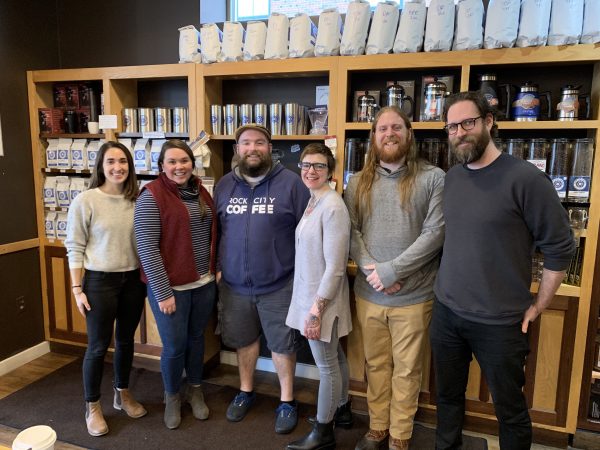 From left to right, Bryson Cowan King, Trekkers Board Member; Kate Elmes, Trekkers Director of Development: Ryan Jackson, Barista – Rock City Employee Cooperative; Amie Hutchison, Trekkers Executive Director;  BJ Chamberlain, Café Manager- Rock City Employee Cooperative; and Kevin Malmstrom, General Manager-Rock City Employee Cooperative
In March 2019, Rock City Employee Cooperative, a cafe and coffee roastery, became a worker-owned cooperative, with employees buying the business from its previous owner and founder, Susanne Ward. They have been providing great coffee, food, live music, and community in Rockland for 25 years. They can be found on Facebook and at www.rockcitycoffee.com.
For nearly 25 years, Trekkers' has been proving students from the Midcoast communities of Owls Head, Thomaston, South Thomaston, Rockland, Cushing and St. George with a six-year community network to support the transition to adulthood. Trekkers utilizes outdoor, experiential, and travel-based education as a means of strengthening resiliency, raising aspirations, defining post-secondary goals, and increasing connections between young people and their communities. The Trekkers Training Institute was founded in 2017, and is dedicated to improving outcomes for young people by providing training, coaching and other professional development opportunities on effective, tested youth development techniques and principles. Trekkers can be reached at 207-594-5095, www.trekkers.org and www.trekkersinstitute.org.