Trekkers' LEAP Program (Launching Empowered and Aspiring Professionals) 
Trekkers' LEAP Program (Launching Empowered and Aspiring Professionals) is a program designed to help Trekkers' students explore career fields, network with professionals, and gain clarity on their aspirations. In mid-March, after touring the University of Maine, in Orono, and Husson University, in Bangor, the 11th grade Team Denali students spent the evening in Rockland with a professional panel of speakers.
This opportunity gave the students a chance to ask questions, learn about a variety of career paths and explore several professions as participants on the panel shared their own professional knowledge, experiences, and journey. The students had a wide variety of interests and Trekkers was thankful to have a panel with different backgrounds and careers. Featured on the panel were the following: Nate Davis (Programmer/Entrepreneur), Thomas Crosslin (Surgeon), Heidi Vanorse Neal (Co-Owner of Loyal Biscuit), Alexis Iammarino (Artist), Jessie Rutter (Four Maine Law), Emily Carver (Clinical Psychology), Ariel Birke (Owner of Daughters), and Caitlin Clark (Academic Coordinator at RSU13 Adult Education). This experience is a valuable opportunity to better a student's success in achieving future goals. The diverse professional panel offered insight and feedback that encouraged the students to reflect on their personal interests and future ambitions.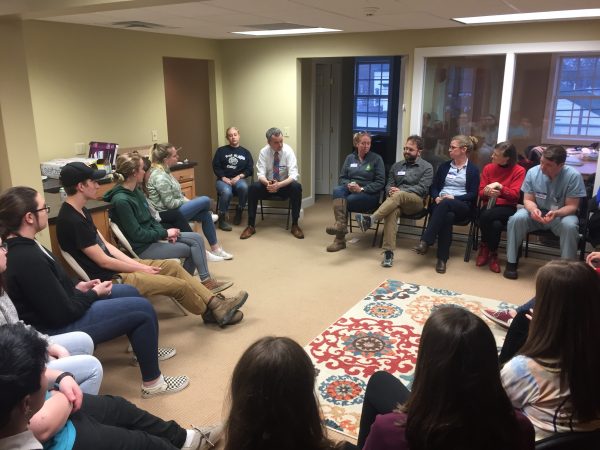 Program Manager Brandon Caron shared: "The really powerful part of the professional panel was being able to watch students sit across the room from a bunch of adults that they aspire to be and ask them questions about how they got there. Rather than a step-by-step guide, the advice the students received can be boiled down to 'If something is interesting, explore it. Be a good person and surround yourself with good people. And go easy on yourself if it doesn't go to plan. Because it will be hard at times.' It was really inspiring to see a group of successful adults  encourage and value the process over the outcome for our students. I've seen it since to lighten the pressure that they are feeling as juniors in high school."
Trekkers' LEAP Program will continue to help Trekkers' students gain the real-life experience necessary to make informed decisions about their future. Next year, these same students can take part in community-based internships to gain a focused experience within their chosen field of interest. This unique programming that makes a difference for Trekkers students is not possible without the support and participation from the local community. Trekkers is grateful to all local professionals and businesses that host interns, conduct mock-interviews, and participate on the panel each year.
Trekkers is a non-profit organization that cultivates the inherent strengths of young people through the power of long-term mentoring relationships.  Trekkers was founded in 1994 as an outdoor-based, youth mentoring organization that now serves 240 seventh through twelfth-grade students from the Midcoast communities of Owls Head, Thomaston, South Thomaston, Rockland, Cushing and St. George. The Trekkers Training Institute was founded in 2017, and is dedicated to improving outcomes for young people by providing training, coaching and other professional development opportunities on some of the most effective, tested youth development techniques and principles. Trekkers can be reached at 207-594-5095, www.trekkers.org and www.trekkersinstitute.org.